Emily Houston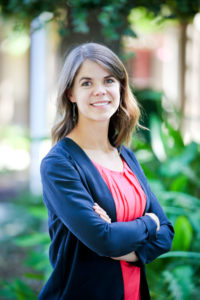 Emily Houston, DPT, OCS
Emily earned her doctorate in physical therapy in San Francisco, at a joint program between UCSF Medical Center and San Francisco State University. She later completed a one-year orthopedic clinical residency at Oregon Health and Science University in Portland, earning a specialty license as an Orthopedic Clinical Specialist. Emily is skilled in treating musculoskeletal and post-operative presentations of the spine and extremities and has experience in women's health, sports medicine, chronic pain, headaches, concussion, balance impairments and preventative health.
Emily loves her work and is committed to helping each patient meet his/her goals through therapy. She treats within a biopsychosocial model, using manual therapy, personalized exercise, and her previous experience as a Pilates instructor and as a PT in multiple treatment settings to offer a patient-centered approach to rehabilitation.
Emily lives in Colusa with her husband and son. When she is not in the clinic, you can find her with her family in the garden, walking or running on the levee, or hiking in the mountains. She is delighted to be a part of the Colusa Indian Health Clinic team and to offer physical therapy services to the community.