CICC Operations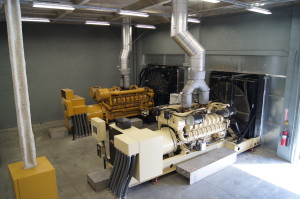 Co-Gen Plant Overview
The Co-Gen power plant produces 100% of the electricity used by the casino/hotel resort, the Tribal village, both water treatment plants, and member housing. The Co-Gen also produces all of the hot water and chilled water for the resort's heating and air conditioning, by utilizing the waste heat from the plant's clean burning natural gas engines. The plant uses six gas-fired generators, along with eight solar parking canopies, as the Tribe's prime power producers. There are also two diesel-fired backup generators and a state of the art UPS system, in case of emergency.
Electrician Division Overview
The Electrical Division is made up of both residential and commercial certified electricians. We all are required to maintain our license by completing continuing education hours every year. The electricians are currently studying topics such as variable frequency drives, pump panel operation, solar installation and design. Our duties include maintenance and service calls on all of the homes, pump panel maintenance and installation for the farm division, casino maintenance and expansion, and equipment installation, water treatment and waste water treatment plant maintenance and equipment installation, all electrical installation for the new homes and any electrical installation and design needed for new projects. We perform yearly National Electrical Code changes to keep our work up to date with the latest code additions and changes.
Public Works Overview
Water Treatment and Waste Water Treatment Plants
CICC Public Works and Wastewater departments are responsible for operating and maintaining one wastewater plant and two drinking water plants.
CICC operates a SBR which processes approximately 50,000 gpd of waste. The plant consists of two reactors, one aerobic digester, and seven drying beds. The wastewater plant treats all waste from the Casino, Hotel, Administration buildings, and the Community Homes.
CICC operates two drinking water plants. The plant located at the South Reservation is capable of treating 300 GPM of raw water from 3 wells. The treated water is stored in three above ground tanks. All water is run through a reverse osmosis machine, Ph. balanced and chlorinated. Water is distributed throughout the community by five pumps. The plant located at the North Reservation is capable of treating 30 GPM of raw water from 1 well. The treated water is stored in one above ground tank. All water is run through a reverse osmosis machine, Ph. balanced and chlorinated. Water is distributed throughout the community by two pumps. Both water systems follow EPA regulations and guidelines.
Village Maintenance Overview
The CICC Maintenance Department has a staff of Maintenance Technicians and Landscapers to maintain all buildings in the Village and Reservation grounds. All reservation improvement projects and grounds maintenance are done in house with state licensed installers and applicators. The department does all facets of landscape from design to installation; which includes custom concrete, water features, irrigation, sod, and plant installation. All native plants are propagated in our own greenhouse, grown in our own nursery, and then transplanted throughout the community. The department is also responsible for all building maintenance, custodial care, as well as care of the CICC Wellness Center swimming pool. All building repairs and maintenance are completed efficiently with an electronic maintenance request system. All facilities are cleaned to the highest standards daily. We are also responsible for all special event setups and teardowns held at our CICC Community Center.
Construction Overview
CICC Construction is pushing the boundaries of accepted standards in construction and environmental practices. Every project is approached with a forward thinking attitude of how can this be done better, more efficiently, and with an eye towards minimizing environmental impact on our natural resources.
Earth Tubes:

CICC has been installing a state of the art energy saving process that has been around, well, since the Persian Empire. CICC is always on the cutting edge of technology.
Roughly ten feet below the earth's surface the earth remains a constant temperature throughout the year. That temperature is almost the same as the yearly average temperature for the area. Earth Tubes are a passive heating and cooling system that taps into that constant temperature source and utilizes it to moderate the temperature of a home. See the diagram to the right for the essentials on how this works.
CICC has started installing these systems in our new home construction to help keep power bills to a minimum. This benefits everyone now and for generations to come. Just another way that CICC Construction is advancing a Seven Generation philosophy to grow our community without leaving footprints.